Great start for the Phillies last night, with their staff ace doing the business against the Rays, in Tampa no less.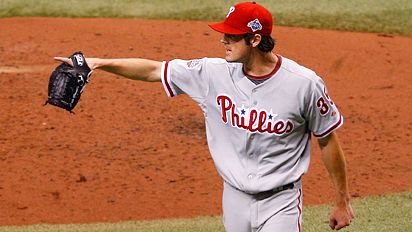 Not entirely surprising though, Hamels is an out and out stud.
The problem for Philadelphia though, is the next three games play witness to a vast difference in standard of starting pitching. In which of the below do the Phillies even come close in terms of starting pitching talent?
Thursday
Game two
PHI: Myers
TAM: Shields

Saturday
Game three
TAM: Garza
PHI: Moyer

Sunday
Game four
TAM: Sonnanstine
PHI: Blanton

Something else to note before we head to Philadelphia for game three on Saturday. Game three and definitely game four could be high scoring affairs. If you are into gambling, it might be worth checking out the 'over' in the total game runs market for any of the games played in the Phillies tiny ballpark. With the way Tampa are hitting home runs, and with the Phillies powerful first half of their lineup, these games could end up 10-8 or 12-7 in a hurry! Game four in particular, with possibly the worst pitching matchup of the entire series on display.

Just something to note!


.