LA soccer fans need to work on their banners.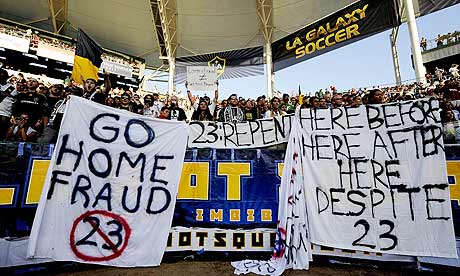 A little bit of advice, basically, 'less is more' when it comes to derogatory football banners. The one on the far right, too much, just too much.
''The apparent snub has angered some Galaxy fans, notably a hardcore that sit in the so-called LA Riot Squad section. Throughout the first half of the game he was subjected to jeers and obscene chants.''
I would imagine
Beckham
has heard worse in his time in England and Europe, but Kudos to the 'LA Riot Squad' for trying. Dear oh dear. The 'LA Riot squad', eh? Was
'Mickey Mouse's good time gang'
already taken or something?
It would be fun to place a couple of the 'LA Riot Squad' between Leeds and
Millwall
supporters at
Elland
road on a Saturday afternoon, and see if they still want to play 'football hooligan'. Perhaps a little trip to
Galatassary
or
Fenherbache
for a Champions League showdown might be in order to the LA crew! That would be something of an eye opener undoubtedly.
.