If you are reading this on Facebook,
click here
to read
the fully formatted, extra sexafied version (videos/pics etc on this post won't show on facebook).
Five hundred and fourty seven sports related text messages, several beers, wines and copious amounts of snacks later...
Saturday 2:30 pm Irish time
Rugby test match
Ireland v South Africa
So it's official. Ireland is now the greatest rugby team in the world! Taking a step back, it's dangerous to run away with hyperbole, but you can not understate the terrific Irish weekend win over the World and Tri-Nations champions, South Africa. Whatever about the fact they are world champions, perhaps more in context, the South Africans spent the summer just passed beating New Zealand and Australia to win the prestigious Tri-Nations. So with Ireland beating them Saturday, that makes us the greatest Rugby team in the world right now, correct?
Saturday 3pm Irish time
English Premiership
Sunderland @ Wigan
This '09/'10 Sunderland side are proving to be an odd little enigma of a team. They have gone to Old Trafford and earned a 2-2 draw. They have beaten both Liverpool and Arsenal. They are 8th in the Premiership and a good run away from possible European competition placings at seasons end. And yet, they are still losing very unusual games. Perhaps Wigan were always going to be playing out of their skins to make up for losing 9-1 to Spurs last week, but this is still a game Sunderland should have won. Very disappointing result. Perhaps the Wigan players were also trying that extra bit harder as it was their ex boss, Steve Bruce, standing in front of the Sunderland bench? You can make a few excuses, but at the end of the day, vastly superior Sunderland squad beaten by a team that's going to be fighting relegation at seasons end. Kind of mystifying.
Saturday 5pm Irish time
College Football
Clemson @ South Carolina
Have you played ESPN's streak for the cash as yet? What's amazing is how often over 90% of those picking a certain game get it totally wrong. This was one of those situations. Clemson, ranked in the top twenty, were chosen b an amazing 96% of those picking on the game, and yet South Carolina absolutely walloped them. I assume people playing 'streak' are just too lazy to investigate the games they are picking on and instead just go with the flow? The flow, as those rich bookies would testify to, is very often wrong. 96%! That's a whole lot of streaks busted!
Saturday 745 pm Irish time
Rugby test match
France v New Zealand
Sports can twist your brain around sometimes. France recently beat South Africa who spent the summer whipping New Zealand all around the place, so, naturally, New Zealand stroll into France and wallop their hosts. Where's the logic in that?
At least we were treated to the uplifting French national anthem and the brilliant Haka pr-match.
Sunday 4pm Irish time
English Premiership
Arsenal v Chelsea
Another odd result from a topsy-turvy weekend. Yes, Chelsea have assembled an impressive array of free agents. They have no doubt cobbled together an expensive array of physical talent. However, who could have seen Arsenal get turned over so heavily on their own patch? In a derby game no less. The separating factor was Didier Drogba, who proved that when he is focused, he is one of the greatest goal-poachers in the world. Arsenal missed Van Persie badly, you could even say they missed Bendtner too. All in all, who, apart from the most blinkered of Chelsea fans, could have predicted 3-0 to the blues?
Sunday 6pm Irish time
Spanish La Liga
El Classico (Barcelona v Real Madrid)
For all their billions of euros spent in the last few seasons, what exactly is the point of Real Madrid? They aren't going to win anything in '09. They are certainly not very entertaining. What's the point? At least previous incarnations of the 'Galacticos' were wildly fun to watch, Zidane, Backham and (the real) Ronaldo were a joy to behold. This time round the Galacticos have a distinctly stale look to them. Kaka has lost his pace and will to win at an alarmingly speedy rate. Ronaldo (the new, less enjoyable one) looks completely lost. Barcelona were reduced to 10 men with the softest red card you would care to see, and still bossed the game to the end.
One final thought on that one, Lionel Messi is the single greatest player in world football as we speak. Well, other than Andy Reid, of course.
Sunday 6pm Irish time
NFL
Indianapolis @ Houston
How wafer thin are Houston? How many years are we going to have to put up with them being labeled dark horses only for them to fall flat on their faces? It's one thing to lose a big lead, but at home, in a crucial game for your season, to throw that lead away was just pathetic. On the flip side, the Colts just keep on winning. Anyone remember the start of the season when pundits were writing them off left right and center?
Sunday 9pm Irish time
NFL
Chicago @ Minnesota
After watching 76,978 hours of sports on a given weekend, the last few games can turn into a bit of a jumbled mess of memories. One thing stood out here though. Whatever you want to say about the guy, Brett Favre is a pretty impressive individual. He throws the football harder than most if not all quarterbacks in the NFL and is leading the Vikings on a seriously focussed looking playoff drive. Vikings/Saints NFC showdown? Yes please! Now that would be dramatic.
Anyway, if you enjoy good sports, good theatre and what not, you kind of have to admit, it's a good thing Favre didn't retire, right?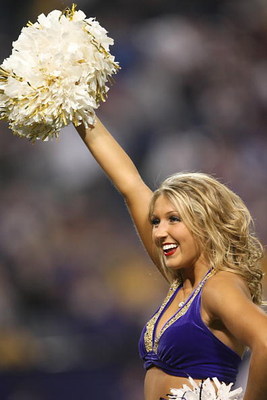 .