Belated thoughts on opening night
Sadly one of the most prominent aspects of the evening was the home plate umpire
Joe West's ridiculous strike zone
. To stress, the zone was ridiculous both ways. This wasn't a bias thing at all, it was just another veteran umpire stubbornly refusing to call the correct zone. According to the ESPN 'K' zone, Beckett had fourteen strikes that were called balls and one ball called a strike. That is simply horrific. To me it looked like West was calling an odd number of pitches up in the zone, particularly slow off-speed stuff, but was completely ignoring the outside corner, no matter how close it was. His ilk is the main reason those types of games turn into four hour slug fests. If pitchers are forced to throw the ball down the middle of the plate, of course they are going to get hit, and subsequently the games will be prolonged. MLB should not allow itself to be held hostage by the whims of these ancient, stubborn umpires who refuse to call the strike zone as it should be. The game is suffering because of this.
Lost somewhat in the euphoria (or, Titanic like disaster, if you are a Yankee fan) was Red Sox ace
Josh Beckett's
undeniably sub par outing. As with pretty much everything that happened Sunday night, there were silver linings by the pick-up-truck-full. First of all, Beckett had a horrible April in '09 also, however his season worked out okay. Secondly, with his snazzy new sparkling contract, Beckett can now relax and just get on the mound every five days and throw bullets. My own feeling is Beckett actually looks ahead of where he was this time last year. Give it three or four starts and he will be dominating lineups again.
This is kind of a rhetorical question, as the answer is pretty clear, but is
ESPN's coverage
specifically aimed at 73 year old retirees, or does it just seem that way? Orel Herschiser did offer some interesting 'from the player's point of view' side notes, but Jon Miller and Joe Morgan are nothing short of excruciatingly painful. Morgan squats low in his seat blathering on about how awesome he was, and how in his time things were different. Meanwhile you would not be stunned if the camera turned to Miller to find him wrapped in a cosy robe sipping hot chocolate while giving out about the youth of today. The conversation between them is boring, slow and tiresome. Is this really the best ESPN can do?
''That was the worst pitch I have ever seen!''
On a similar note, as mentioned above, the
ESPN 'K' Zone
was clearly illustrating that Joe West was having a stinker of a night behind the plate. Instead of actually discussing this Morgan and Miller just continued on with their fire side chat type commentary. What's the point in having the 'K' Zone if ESPN aren't going to discuss its findings?
One of my favourite parts of the night? Watching
Daniel Bard
annihilate Mark Texiera's bat with a 98mph fast ball. Texiera knew it was coming, got the bat around in good time but could only watch as his bat literally evaporated, splintering to pieces under the weight of the Bard offering.
Victor Martinez
is the real deal. Just watch his at bats closely. He doesn't miss anything. He is pretty much 'on' every single pitch. I am continuously amazed how he gets over looked in discussions about the Red Sox lack of offensive firepower. Martinez has an absolutely beautiful swing and a brilliant, clinical eye. I think Sox fans are going to be completely blown away by him, after a full season in the Sox threads.
Where to now for the Yankees?
This was no ordinary loss. The gaping holes in their squad were violently exposed by the Sox come back win. The funniest moment of the night was Herschiser calling Sabathia 280lbs. The last time the Yankee ace was that weight he was probably 17 years old. Sabathia has to be about 350lbs. He is grossly over weight. You could see him visibly run out of steam as the game wore on. How on earth could the Yankees allow a player that poorly conditioned to take the mound on opening night? Another major issue that is going to plague the Yankees is that ridiculously thin bullpen. Chan Ho Park? Seriously? His feather light pitching arsenal might cut it in the National League, but you would have to think Park will be gone before May comes around. He is simply not cut out for this level of competition, otherwise known as the AL East. Jibba Jobba Chamberlin looked a mess also. His stuff is still superb, but he doesn't have the head required to compete in the majors.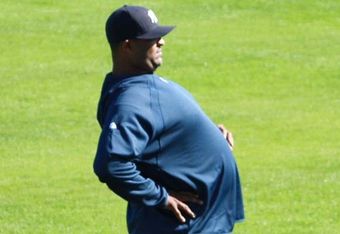 Finally, the
lower part of the Boston order
looked feisty. The Red Sox lineup looks 'longer' than it did in '09. What that means is that the six through nine spots look like they will contribute effectively in '10, making the lineup one through nine 'longer'. If you recall, six through nine was a serious Bermuda Triangle like dead-spot in '09. It is obviously very early however it looks like that won't be the case in '10.
.