It's the greatest tournament, the single
greatest sporting event in the World
. Bar none
There will probably be more Americans watching it than ever before, so now seems as good a time as any to keep this tradition up. Before the last World Cup in 2006 Boston Irish came up with the idea to match each World Cup team with a US sports team, the idea being this would make it easier for US viewers, possibly new to 'soccer football', to watch the tournament.
Since then Boston Irish has been looking after it's people, producing the following pieces in order to help those of you in the States enjoy the game of 'soccer football' that little bit extra.
Hey, if it aint broke, and if people have started copying it, why stop now? Without
Freddy Adu
, the 2010 Boston Irish
World Cup cheat sheet for el Americanos!
Group ASouth Africa
For South Africa we give you, the
1999 Chicago Bulls
. FIFA have done their best to ensure the hosts, South Africa, enjoy a fruitful first round, putting them in with a very poor European side, an inconsistent South American side and a really weak North American side (Mexico are going to be bullied off the park). South Africa has home field, a weak group, several skillful and quick players (Steven Pienaar of Everton probably the pick of the litter) and a decent head coach in Carlos Alberto Parreira. One small problem. Like the '99 Bulls, South Africa has a serious problem scoring the ball. They simply can't find the back of the net. In '99
the Bulls made history
as the single lowest scorers in NBA post shot clock history. South Africa could go the entire World Cup without scoring a goal. With Benni McCarthy listed as your 'star man', It is not completely out of the question.
Mexico
Mexico is in for a rough ride this summer. The three teams they face in the group stages are all big, physical, sides, or the antithesis of Mexico. It's a shame as Mexico is a decent side, they play some pretty passing football and will be enjoyable to watch. They will be severely handicapped however by their physical liabilities. In short they are going to be bullied off the park. Meet the
'04/'05 Indianapolis Colts
, bullied off the turf by the Patriots in the playoffs. The Colts went to Gillette Stadium with high hopes, and left with nothing but bruised bodies and egos as they Patriots punched them in the mouth all day long. South Africa, France and in particular Uruguay should all possess too much physicality for a very small Mexican side.
Uruguay
Big, tough, physical side that is happy to mix it up with the opposition any time of the day. This Uruguay side has a couple of decent players like Diego Forlan but their spine is built on hard, physical play, much like their predecessors at previous World Cups. Their leader is Diego Lugano, a player who will be walking a tight rope all tournament long with the referees. For Lugano, just think Bill Laimbeer, for Uruguay, think the
Detroit Piston teams of the 1980s
. You almost feel sorry for poor little Mexico. They are in for one serious mugging.
France
Amazingly the French supporters and French sporting media actually think they have a chance to win this tournament. This in spite of the fact they had to cheat to get past a very ordinary Irish side in the playoffs. France has a couple of big names and a great history, and that's about it. Their coach is a complete clown of head scratchingly bad proportions and their team spirit is completely non existent. They are a hollow shell of a team, they are the Tony Romo led
Dallas Cowboys.
All style and zero substance, they will fall short just like Romo and his merry band.
Group B
Argentina
A team that is expected to do great things by its fan base. A team that has the single best active player in the world today. A team that has a coach that will be sacked possibly before the team gets home. Wait, are we talking about the
2010 Cleveland Cavaliers
or Argentina? Much like LeBron, Lionel Messi won't be able to win the trophy on his own. For Mike Brown read Diego Maradona. Completely and utterly tactically clueless, the team would probably go further into the tournament with a drunken, learning disabled chimpanzee at the rudder. At least he wouldn't run his car over a journalist.
I am completely sane I will have you know!!

Nigeria
All out attack, no defence, Nigeria better take their chances when they come or they will be going home early. The 'Super Eagles' are absolutely stacked up top with plenty of attacking options like Yakubu, Martins and Odemwingie. The problem is they have no clue how to stop the opposition scoring too. They are the current
Golden State Warriors,
the NBA's second top scorers at 109 points a game. Both they and Gold State are going home empty handed due to an inability to stop the opposition from scoring.
Korea Republic
During qualification the Koreans faced the likes of Australia, Saudi Arabia, Iran and Japan in the Asian qualifying stage for the 2010 World Cup. In the third round, Korea met North Korea, Jordan and Turkmenistan. Not exactly the 'cream of the crop' of World football. They are the current
Baltimore Orioles
. Like the 'Os in the AL East, Korea are Over matched, under staffed and out of their depth. Baltimore are currently riding a six run losing streak, Korea will lose just the three times, and then head on home.
Greece
Oh dear, this is about to get ugly. Watching Greece play football is a painful experience. They have absolutely no interest in playing creative, attacking football, instead committing themselves to fouling, cheating and boring the opposition to death. Does cheating sound harsh? Just wait until they start flopping and diving in front of you on TV, you will end up using words stronger than cheating. Ladies and gentlemen, Greece are your
'97-'04 LA Lakers
, the greatest team flop artists of all time. The Lakers of that era had two of the top ten 'floppers' in NBA history, Robert Horry and Derek Fisher. The latter of whom great flop artist Vlad Divac said, "I think he does a better job of that [flopping] than I do." If you hate flopping, or diving as it is called in soccer, you should probably avoid watching Greece this summer, they will only annoy the living crap out of you. Trust me, there is zero entertainment value at all to be had watching the Greeks play soccer.
Group C
England
As we get closer to the tournament, the hype in England is reaching fever pitch. English fans, pundits and bookies all think they actually have a shot at winning the World Cup. This in spite of woeful recent friendly results, and a lack of real quality throughout their squad. England are the
'10 Orlando Magic
. Everyone thought Orlando would at least make the finals, as most in England firmly believe their side will to. Only problem is no one told their opposition. England have a couple of good role players and are a physically 'big' side, but lack that final touch of class in and around the box (Dwight Howard, anyone?). They will cruise through the first round (or regular season in the Magic's case) and then will be the victim of an untimely exit against a simply better foe.
United States
Relatively young, very athletic, huge potential. We could be talking about either USA or The current
Oklahoma Thunder
. The States are a very fit, very athletic side that will cause all sorts of problems for teams not ready to run for the full 90 minutes. They play nice, attractive passing football and will be involved in some exciting, high scoring games, just like the Thunder in the NBA. The States will be competitive into the latter rounds but will eventually come to their demise against bigger, more physical and more tactically astute sides.
Algeria
They really shouldn't be here, Egypt is a superior side in every way but Algeria snuck past them and into the cup. Not the best team from their own continent (which is actually Egypt). Much like the
New York Jets
, not the best team in the AFC East but went further than the Patriots did last season. Side note, Algeria are absolutely brutal. England should hammer them and the States should beat them handily enough.
Slovenia
A defensive minded team who conceded only six goals in twelve qualification matches. Funny fact, their goalkeeper's surname is, naturally, Handanovic! Handy! Slovenia would have slipped into the Cup completely unnoticed but for a stunning playoff win against everyone's dark horse, Russia. The 'Soviets' were loaded with talent and primed for an interesting cup run. Now it is Slovenia's turn to play the proverbial dark horse. Very specific one this, the
Phoenix Suns of May 26th 2010
. They had just got the series back to 2-2 with the Lakers and from that point on were absolute dark horses. They could have won the next two and gone on to run past the Celtics in the finals. As it was, they fell to the Lakers, as it will probably be, Slovenia will lose to England and the USA. However, right now, it is very hard to predict, you know, on account of them being such dark horses.
Group D
Germany
In the States most sports fans know what the Ewing Theory is. In Europe and the rest of the World it's still an unknown description of a phenomenon. However, it could very well be applied beautifully here. First of all, to its creator, Bill 'The Sports Guy' Simmons for a definition of 'The Ewing Theory'
taken from this piece.
What's the best example of the Ewing Theory?
That's easy. During the '99 NBA Playoffs, Ewing tore an Achilles tendon during the second game of the Eastern finals against Indiana. With Ewing finished for the playoffs and nobody else on the Knicks who could handle Rik Smits, the series seemed like a foregone conclusion. As an added bonus, since Ewing himself was involved, that made this the ultimate test of the Ewing Theory; in fact, I e-mailed Dave that week to say, "This is the greatest test yet."
Dave's return e-mail oozed with confidence, as he told me in no uncertain terms, "Ewing's injury is the best thing that ever could have happened to the Knicks -- they're definitely making the Finals now."
So what happened? The Knicks won three of the next four and advanced to the NBA Finals for only the second time in 26 years
How does this apply to Germany? If you haven't already guessed, Germany's talismanic Captain and resident Matt Damon look alike, Michael Ballack, is out of the World Cup due to injury. And boom goes the dynamite. Germany? The
'99 New York Knicks
. Like the Knicks, they will probably fall short after a better than expected tournament.
Australia
The Soccaroos managed a totally unexpected, sparkling World Cup in '06, winning over hearts and minds with some committed, exciting football. Here they are again in '10 and, it's basically the same squad. The same players, four years later, are going to be asked to perform miracles one more time. The problem is, they have got old in a hurry.
The San Antonio Spurs
were by far the oldest NBA team this season, with an average age of 30.6. Australia will be one of the oldest teams in the World Cup. Neither will be taking home any silverware in 2010.
Serbia
Dark horses, but unlike Slovenia, dark horses with a legitimate chance to get deep into the tournament.
The Butler Bulldogs
stunned much of the basketball world in March by making it all the way to the NCAA final. They knocked off Kansas and Michigan on the way to the finals. The Serbs have beaten France and Romania in qualification, and are stacked with little known but solid players. Vidic, the Manchester United defender, typifies their no nonsense, talented style. Serbia are going to 'shock' the World by winning Group D, and from there, like Butler, anything is possible.
Go Serbia! No, wait, I mean, Go Butler!!
Ghana
They are going to really miss Michael Essien. No Ewing theory here, they are just going to miss the midfield dynamo. Much like the
2009 Boston Celtics
, who could not progress through the playoffs without Kevin Garnett. Tricky group actually, the more you look at it. Germany will be very tough to beat even without Ballack, Serbia are better than everybody knows and the Australians and Ghana are no push overs. Tough group, the Group of Death Lite.
Group E
Netherlands
This could end up as one of those situation when, as the dust settles, everyone murmurs to themselves, 'well, they really were that good, maybe we should have known'.
The 2010 Duke Blue Devils
went into the NCAA final against Butler with a very large proportion of people thinking Duke was going to get beaten. In fact, all tournament long, people were picking holes in Duke's game. They very quietly went ahead and won it all. Holland is absolutely stacked with talent. Their squad is positively dripping with stars. Van Persie, Van Bommell, the brilliant Wesley Sneijder, the superb Arjen Robben. They are potentially so good that we may end up waking up the day after the World Cup final thinking, 'huh, should have guessed that outcome!'
DenmarkThe Portland Jail Blazers
! Starring Nicholas Bendtner (see below picture!) as Rasheed Wallace, if Wallace took his pants down in public more often. Stories of the drunken carousing of the wonderful old 80's Danish teams will have no doubt made an impression on their new version. Hopefully Denmark 2.0 are up to the challenge!
Japan
Oh God, I don't know, we're not going to remember them at all, trust me, they are not going to be around long, so shall we randomly say, the 1992 New England Patriots. Before Brady, before Bledsoe, no discernible features. Fine, that's it so.
Cameroon
We're going to use a player for this one. The best years may be behind Cameroon. They will possibly win a few games, however their age will eventually catch up with them. Kind of like
Ken Griffey Jnr.
They both gave us lots of memories, never won a title and are now just too old to keep up with the competition. On a somewhat related note, sad to see Griffy retire, such a classy guy and such a classy player to boot. It's a real shame it's not him leading the charts in home runs all time, instead of the current steroid infested incumbent.
Group F
Italy
One of the best defensive sides in the World, even now, four years after defending the cup to death in 2006. With their team built around the strong core of Buffon, Cannavaro and Chiellini, Italy are set to bore us all to death again, sadly. There is no denying though, how excellent a defensive team they are. Italy are the
Boston Celtics
in the Orlando series in this season's NBA playoffs. They will throttle several teams to death with effective, stifling defence. Much like the Celtics, both veteran, savvy defensive sides, it remains to be seen if the outcome will be positive.
Paraguay
As Homer Simpson would say about Moe's chili at the chili fair, 'A bland, timid entry…' There's no doubting Paraguay's collective defensive ability, the team conceded just 16 goals in 18 matches during WC qualification. The problem for them is they don't score many and will suffer against quality sides who pass the ball well. By the time the tournament is over, 50% of fans world wide will forget they were ever involved. Kind of like the
Houston Astros
. Is there a more bland, timid entry in the majors right now than Houston?
New Zealand
This lot are in for a serious trashing. It wouldn't be a shock if they lost all their games, potentially by wide margins. They are lacking in technical ability, lacking in competitive fixtures against quality sides and finally lacking in depth throughout their squad. They will be right up there as potentially the worst team in the tournament, or the NCAA team the
Arkansas Pine Bluff,
beaten by 30 points in the first round of March Madness earlier this year.
Slovakia
Quick! Name three Slovakian players! Don't worry, not many people can.
The San Diego Padres
of the World Cup, a team distinctly lacking in star power. Much like people can only name Adrian Gonzalez as a Padre, Martin Skrtel of Liverpool is probably the most 'visible' Slovak. They are blessed with a relatively easy group and thus may make it to the second round, but after that they will be knocked out and back into anonymity.
Group G
Brazil
Either of two options here, Brazil are either the
2008 or 2009 LA Lakers
. We won't know until the latter stages. If they are the '08 Lakers, they will get deep into the tournament and then get ousted by a more physical, gritty, possibly European team. If they are the '09 Lakers, they will sweep all before them. On a side note, this is the first World Cup where I will be actively rooting against Brazil. I have simply had enough of their aggressive religious recruiting. It's disgusting.
Korea DPR
Oh boy, talk about in the wrong place at the wrong time. English soccer pundits have some great words for bad beatings, one of myself and my Dad's favourites is 'Tonking', as in, 'Korea are in for a real tonking'. We're talking
'62 New York Mets
level here. Korea are completely out of their depth in the Group of Death elect. Several tonkings ahead.
Côte d'Ivoire
The Ivory Coast were unlucky to be drawn in the 'Group of death' They will not fear anyone though with a talented squad that includes the likes of Didier Drogba, Salomon Kalou, Gervinho, Aruna Dindane, Amara Diane and Bakari Kone. There is a very real possibility that the Ivory Coast could blaze a brand new trail for African football and get further into the World Cup tournament than ever before. Just think of them as the Post ABA-NBA Merger
San Antonio Spurs
, who in 1999 became the first (and to date, the only) former ABA team to win a NBA Championship. Seriously, the Ivory Coast are they good, potentially.
Portugal
Keep an eye on this situation, it could get ugly. Portugal has all the pedigree, several star players and an ego that would make Burt Reynolds blush. Only problem is, they aren't very good. They struggled mightily to even qualify for the World Cup, and now find themselves in the Group of Death with Brazil and the Ivory Coast. Portugal has a weak team spirit, in part caused by two massive narcissists in Nani and Ronaldo. Watch these guys dissolve like a tablet in water as they get knocked out early, a case of 25 cabs for 25 guys, Portugal are
the Roger Clemens era Boston Red Sox.
Group H
Spain
Oh God, it's happening again..
This team has swept all before them. They are potentially the greatest side of all time. They are loaded at every position. They score for fun and have the ability to absolutely destroy any opposition. They are the best team in the World. Wait, are we talking about Spain, or the amazing
'07/'08 New England Patriots
? Here's where it gets scary if you are a Spanish fan. The Patriots were seemingly invincible. They swept everything before them on the way to the Superbowl, there they were shocked by the defensive minded Giants. Spain are without argument the greatest team in the World. The World Cup, though, is like the ocean to a sailor, a cruel mistress, and often drowns the best team elect in a sea of drama and upsets. Who's to say Lionel Messi won't take the tournament by storm, or worse yet for Spain, a defensive minded Italian team peaks at the right time? The Patriots that lost the big game in Arizona are Spain's best equivalent, and worst nightmare combined.
Switzerland
The
2010 Kansas NCAA basketball team
. They will beat the cupcakes(s) in round one, and get knocked out against a decent team in round 2. No substance whatsoever as illustrated by poor recent results against the likes of Finland, Norway and Luxembourg. Going home early, like Kansas.
Honduras
They are grouped with the best team in the World and their goalkeeper, Noel Valladares, is known for making mistakes at crucial moments. This is not a good omen. Meet the
1976 Tampa Bay Buccaneers.
Honduras is going to lose all three games and potentially lose them by big margins. Possibly the worst team in the tournament. Their match against Spain, if the Spaniards are on their game, could possibly end up a double figure scoreline. Their only consolation will be they only play three games, unlike the poor Buccaneers who had to suffer through fourteen.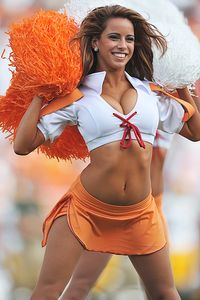 Chile
The 2001 Carolina Panthers! They will one single solitary game, and then go home. Carolina beat the Vikings and then went 0-15 the rest of the season. Chile will beat Honduras, get walloped by Spain and lose a closer one to Switzerland. Overall outcome? One win each.

.