S.A.M.M
- The Boston Red Sox/
'The Hangover'
'Sox in crisis' review
Part one - Positional players
(Part two coming soon)
The sooner the admin team at Boston Irish figures out how to blog from their telephonic devices the better! That's all I am going to say about the weekend past.
Moving on swiftly..
In a piece that has become something of a tradition here at Boston Irish, we like mixing movies and sports, to the extent that they mould into a single, curious entity. From now on they will be known as S.A.M.M, or, Sports And Movie Mixes
Today we are going to have a FOX news 'Sox in Crisis!' like,
S.A.M.M
Previous S.A.M.M articles
Old School
Out of Sight
Stranger than fiction
Enough already with the chit and the chat. On to the piece in question.
'The Hangover'
is a superbly funny, enjoyable, quasi 'road movie' slash comedy. It isn't just the gags, the visual humour or the sparkling script. It isn't Alan, Doug, Stu or Phil, the four main protagonists, or even the crazy Mike Tyson cameo. It is the sum of its parts, a strangely decent movie, not just a comedy, an actual solid, real movie.
See where 'The Hangover' placed in the
Boston Irish top 30 comedies of the last decade piece!
Before we dive into the meaty stuff, a word on the soundtrack for the movie. The music in 'The Hangover' compliments the film beautifully. It is perfectly put together, the music really ties the movie together. Oddly enough, they did a horrendous job on the soundtrack. Almost all the best songs in the movie aren't even on the original soundtrack. I don't get it. if you are going to spend 70 million billion trillion dollars on a movie, why not pay the extra few bucks to get the good songs on the soundtrack?
Nevermind, thankfully, there is such a thing as the Internet, which cures all.
This blog
lists all the songs in the movie and even at what stage they appeared. Sweet. You can actually watch all the
videos for the songs at this site
. So, don't you worry, Boston Irish got your back.
We will be going with a 'Homer Simpson' panic rating for each player, five being the highest, zero the lowest!
Part one - Positional players
Doug Billings: Tracy did mention we shouldn't let him gamble. Or drink too much.
Phil Wenneck: Jesus, he's like a gremlin. Comes with instructions and shit.
J.D. Drew
-
Oh JD, what next? This guy is a human Medical encyclopedia. Thing is, he is also clutch. Yes, that's right. JD Drew knows clutch. Witness the incredible playoff moments. A funny thing has happened with Drew, he finally 'feel' like a Red Sox player. Hey, he is no Trot Nixon, but he is definitely fitting right in, in right. Just the two Homers in terms of panic rating, for now.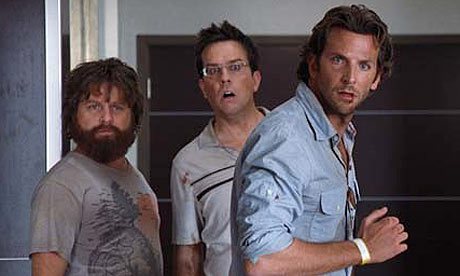 Stu: "Am I missing a tooth?"
Mike Lowell
-
Is Mike Lowell still wearing his hip? High potential for disaster here, let's face it. Lowell will keep making fine defensive plays and chip in the odd clutch hit, but we are all waiting for his hip to pop again, aren't we?
Alan Garner: Tigers love pepper... they hate cinnamon.
David Ortiz
The worst possible thing to happen at the worst possible moment. Having said that, smashing suit at the big press conference. Really top notch. Hard to tell if Big Papi loves pepper or cinnamon but he is certainly an area for concern, or, in Homer's case, panic.
Phil Wenneck: Would you please put some pants on? I feel weird having to ask you twice.
Rocco Baldelli
Is Rocco wearing pants? Does anyone know? What is Rocco doing right now? Is there an over/under for Rocco trips to the DL in '09? One of the great things about 'Hangover' is it stands up to repeated viewings. This line is a great example. The second time you go you notice Alan's retort -
'There wasn't enough time!'
Alan Garner: ...I'm a steel trap. Whatever happens tonight, I won't ever ever speak a word of it. Seriously. I don't care what happens. I don't care if we kill someone.
Jason Bay
Why the four screaming Homers? Bay is currently earning $7.5 million, he is eligible for free agency and might be in line for something in the range of $15 million annually. The Sox have as yet to cough the cash-money up for his services. This is worrying. The negotiations are like a steel trap, no one is speaking a word about them.
Stu Price: They are mature. You just have to get to know them.
Phil Wenneck: [yelling from outside] Paging Doctor Faggot! Doctor Faggot!
Stu Price: I should probably go.
Melissa: That would be a good idea, Dr. Faggot.
Dustin Pedroia
- No Screaming Homers for the reigning American League MVP, a rare bright spot in a suddenly troubled squad. Doesn't the above just seem like something this little Dirt Dog would say?
Phil Wenneck: Tracy, it's Phil.
Tracy Garner: Phil, where the hell are you guys?
Phil Wenneck: Listen, we fucked up. We lost Doug.
Tracy Garner: What? We're getting married in *five hours*.
Phil Wenneck: Yeah... that's not gonna happen.
Nick Green
Oh Nicky, tricky Nicky, you want to write him off, but he won't let you, witness last nights mammoth blast. Fact of the matter is, he is a superb, high level utility player, however he is not an every day AL East short stop. He tries very hard though, sometimes too hard. Automatic out against superior pitching.
Stu Price: We're in a stolen cop car with what is sure to be a missing child in the back. What part of this is cool?
Alan Garner: I think the cop car part's pretty cool.
Phil Wenneck: Thank you Alan!
Jason Varitek
Hard to tell what the Captain thinks about his new team mate, Victor M, however, surely it's a good thing, giving those old knees a rest, no? Pretty cool, no? Thank you, Victor!
Alan Garner: [while picking up Phil at the school where he works] Did you have to park so close?
Doug Billings: Yeah, what's wrong?
Alan Garner: I shouldn't be here.
Doug Billings: Why is that, Alan?
Alan Garner: I'm not supposed to be within two hundred feet of a school... or a Chuck E. Cheese.
Kevin Youkilis
Zero screaming Homers! Result! Youk continues to mash. He does, however, look like someone who should not be within two hundred yards of a Chuck E. Cheese.
Alan Garner: counting cards isn't illegal, it's just frowned upon.. like masturbating on an airplane
Jacoby Ellsbury
Just one cautionary Screaming Homer, in case of slumps. Jocoby's speed should be illegal, like masturbating on airplanes.
Coming soon
Part Two - Pitchers
.