Here's the 411. Over the next couple of months I am going to crudely single out all but four teams and label them audaciously as having zero chance of winning the 2008 World Series. What will this arrogance get me? Nothing bar a torrent of abuse in the event I get it wrong and one of the chosen gang of Chug Monkeys turns out to be the World Series champs. Let's start insulting people! Today, a two-for-one special, one obvious, one not so obvious.
Team one
I saw them last night, and they are awful! No doubt about it, this team is not winning the 2008 World Series! At 33-41 they aren't the absolute worst team in baseball but they are heading swiftly in that direction, having lost five in a row at time of writing. They have conceded a whopping 368 runs already and have a run differential of -48. They have what looks like a decent lineup on paper however they simply can not score runs.
They are batting .174 (38-for-218) over its last seven games while scoring just 16 runs. They are managed by a guy who looks eternally confused.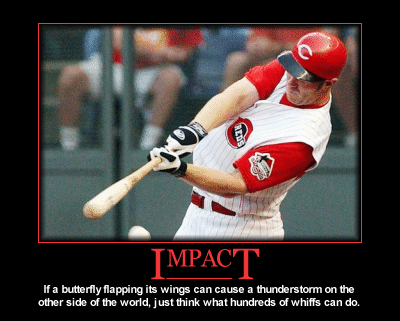 Having watched them last night I say this with complete and utter confidence! The Cincinnati Reds are not going to win the 2008 World Series!
Team Two
This one isn't really about statistics, or standings. It isn't about payroll or the teams ability to break off a ten game winning streak. It is about one of the most dysfunctional teams in Major League baseball. They may make the playoffs, though I doubt it. They may beat a few teams after the all star break, they might even make a few teams look silly along the way. However, due to a litany of front office, locker room and management issues, this team is not going to win the 2008 World Series.
Having said that, things aren't even going great in the field for this bunch of under-achievers. Considering their whopping payroll, the fact that they are nine games out in their division is absolutely pathetic.
They have fired their manager, they have players travelling on road trips with concussion and they have a massive locker room split with a hint of a racial divide that would sink them if they ever did manage to pull their sorry backsides out of the gutter.
Their new manager's motivational tactics? How about how he addressed a (black) player who was annoyed to be taken out of a game
"I told him next time he does that I'm going to get my blade out and cut him. I'm a gangster. You go gangster on me, I'm going to have to get you. You do that again, I'm going to cut you right on the field."
Ladies and Gentlemen! The train wreck that is the New York Mets, they are not going to win the 2008 World Series!
The quote above was Mets manager Jerry Manuel regarding Jose Reyes' objection to being removed from a game as told to the
N.Y. Daily News
Previous entries to 'Teams that are not going to win the 2008 WS;

The Cincinatti Reds

The New York Mets