And so it ends, with a whimper, not a bang. The last two or three weeks the Red Sox have lost their last chance to make the playoffs for 2010. Well, they have really kind of just watched their chances gently slide away into the murky distance. How can I say this with such certainty? I am one of the twenty five most positive/optimistic people on the planet Earth so therefore if even I think they have blown it, there is a pretty decent chance they have indeed, blown in.
Boston's last chance was sweeping Tampa, and their inability to do so is the final nail in the injury ridden coffin of a season that was 2010. On the plus side (see? Glass half full!) we can all now start burping out obituaries like so much pollution pouring forth from a sewage pipe.
One thing we like to do at Boston Irish is to mix movie quotes with reviews and analysis of baseball and or other sports. S.A.M.M – sports and movie mixes! Here's what we have thrown at you, the esteemed reader, to date.
Previous S.A.M.M articles
Old School
Out of Sight
Stranger than fiction
The Hangover
What better way to summarise the Red Sox season than by using quotes from
'The Departed'
? Such a fantastic plethora of colourful quotes to choose from. So what if I had to spend an hour 'censoring' the piece. My goodness, they swore a lot in 'The Departed'. Good times!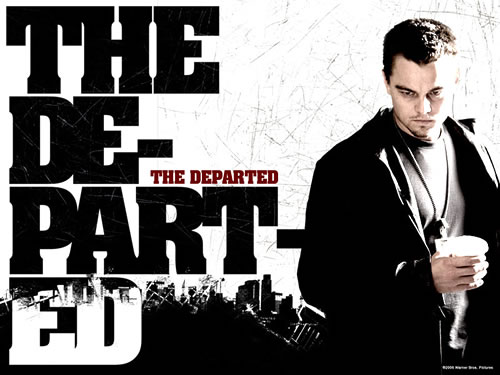 Today, the batters. Monday, the guys that chuck and duck. Enjoy.
Victor Martinez
Frank Costello: What we generally do - in this country - is one guy brings the items, and the other guy pays him. "No tickee, no laundry"!
Boy oh boy has free-agent-to-be V-Mart shown the tickee, now it's time for the Red Sox to show the laundry. Break the bank. Bring the house. Show V-Mart the money! Pay that man his money! There are not enough quotes and or clichés to cover the simplicity of this situation, make Victor Martinez one of the highest paid catchers in baseball and then sit back and enjoy a hard working, knowledgeable, passionate and talented player at work. Victor doesn't need the Red Sox, the Red Sox (badly) need him.
Jason Varitek
Cousin Sean: You know... you know what you usually say at these moments?
We are fast approaching 'that moment' – the end of Varitek's tenure with Boston. Greatest Red Sox catcher of all time, no debate at all. Nothing even close to a debate when you consider the length of tenure, the two World Series rings and the commonly held knowledge that V-Tek was and still is one of the most intelligent game calling catchers in Major League Baseball. You know what you usually say at these moments? Thanks for the memories, Jason.
Dustin Pedroia
Billy Costigan: I'm going f-----g nuts, man. It's been a year of this. I've had enough of this s--t!
It is sad to see Pedroia 'going nuts' as he sits out, in effect, the entire season. Pedroia didn't deserve this, and here's hoping he comes back strong in 2011.
It's so funny, and also kind of sad, that you get people, often Red Sox fans, shaking their heads and blaming everything from Tito to the Sox Front Office for Boston's inability to keep in the race with fully healthy New York and Tampa squads. It's not rocket science, people, missing players akin to Pedroia and Youkilis, amongst others, for the length of time they have been out, would be catastrophic to any other team also. The Yankees would not be leading the AL East with Jeter and Texiera, for example, missing the entire season. Stop looking for answers everywhere else, it's pretty obvious what 'happened' to Boston in the lost season that is 2010.
Bill hall
Ellerby: Our target: microprocessors. Yes, those. I don't know what they are, you don't know what they are, who gives a f--k?
Bill Hall has never seen a neck high fastball he didn't like. Amazingly he swings at them every single time. Just like the microprocessors, he doesn't know what they are, and yes, he is going to keep swinging at them, he doesn't give a f--k!
Mike Lowell
Billy Costigan: You're seventy f------g years old. One of these guys is going to pop you. As for running drugs, what the f--k. You don't need the pain in the ass, and they're going to catch you. And you don't need the money.
Goodness gracious, the Red Sox are going to look different in 2011. Mike Lowell? Gone baby, gone. He doesn't need the money. He needs a hip replacement, is what he needs. As eloquent a baseball player as you will find, we can all look forward to Iron Mike's imminent career in sports broadcasting.
Adrian Beltre
Billy Costigan: When you say "the family," who do mean exactly? You?
Is Bangin' Beltre going to be part of the Red Sox family in '11? His impending free agency should serve as a good barometer as to how serious the Red Sox front office are about doing everything they need to do to win it all, as opposed to simply balancing the books. If Boston signs Beltre, they will be showing everybody they mean business. If not, they don't. As with V-Mart, Boston needs Beltre, not the other way round. Pay that man his money.
David Ortiz
Colin Sullivan: Yeah, you got a tail. Two cars, not very subtle. They're not gonna be very subtle from now on. That's what I've been trying to tell you.
How subtle is Boston going to be this off season when handling Ortiz? To now, the front office has largely let Tito handle affairs, however they might take it out of his hands by bringing in a younger DH or first base type. Ortiz will go down as one of the greatest Red Sox of all time, but right now it's painful watching him try to hit anything faster than 90/91 mph. He is a great, proud man, and it's been a fantastic ride, but my guess is the Boston front office forces matter this off season by bringing in someone like Adrian Gonzalez or even Prince Fielder. Not very subtle!
Darnell McDonald
Oliver Queenan: We have a question: Do you want to be a cop, or do you want to appear to be a cop? It's an honest question. A lot of guys just want to appear to be cops. Gun, badge, pretend they're on TV.
McDonald came into the season as a minor league journeyman. Now he
looks
like a Major League player. He has brought his average up, he plays fearless defence and has added in some big home runs. He
looks
like a Major League player. The question is, will the Sox give him the chance to win a backup outfield job.
JD Drew
Colin Sullivan: What Freud said about the Irish is: We're the only people who are impervious to psychoanalysis.
Oh JD, what goes on in that head of yours?
Jacoby Ellsbury
Ellerby: Marriage is an important part of getting ahead: lets people know you're not a homo; married guy seems more stable; people see the ring, they think at least somebody can stand the son of a bitch; ladies see the ring, they know immediately you must have some cash or your cock must work.
Personally I couldn't believe it when Dan 'The hatchet man' Shaughnessy openly questioned Ellsbury's manhood when writing a complete hatchet piece on his rib injury. It was one of those 'I am not going to question a guy with an injury, but, I am going to openly question the guy right now in print' jobs. It would be fun to watch Dan Shaughnessy run after a flu ball with a broken rib or two. My guess is having to do that would possibly temper his feelings on Ellsbury. In the meantime, what does Ellsbury have to do to prove himself to people, start wearing a wedding ring? Will he seem more stable then?
Ryan Khalish
Frank Costello: You do well in school?




Young Colin: Yeah




Frank Costello: Good. So did I. They call that a paradox.
Khalish has done exceptionally well 'in school', rushed to the majors well before his time, he has shown a flair for the dramatic, heady defensive skills and a hard nosed Trot Nixon like style that has already endeared him to Red Sox fans.
You know what drives me nuts? You know what really grinds my gears? People who say Jack Nicholson was not the right guy to play Frank Costello. You know who you are (cough Bill Simmons cough). Every time I see The Departed, his performance gets better and better. Like fine wine, it matures with age. From the opening scene, Nicholson owns the movie. Even when he isn't on screen, you can't wait to his next line, his next scene. Put it this way, you doubters out there. Think about the role of Frank Costello, now name one other actor who could have delivered it as perfectly as Jack. I dare you, I double dare you, name one guy who could have brought everything to the role that Nicholson did. See? Not so easy, right?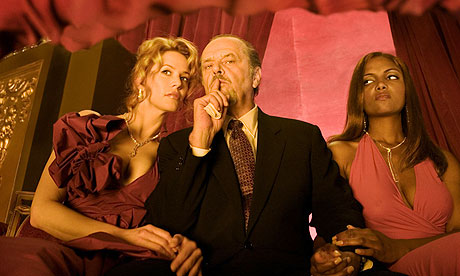 Marco Scutaro
Billy Costigan: Frank, how many of these guys have been with you long enough to be disgruntled, huh? Think about it. You don't pay much, you know. It's almost a f----n' feudal enterprise. The question is, and this is the only question, who thinks that they can do what you do better than you?
Can there be any position in sports more frustrating to play than short stop for the Boston Red Sox? Scutaro must already be looking over his shoulder to see who the Sox are lining up to bring in and play short. The sad thing is, I think Scutaro did a decent job in 2010. Forced into the leadoff spot by Ellsbury's injury, he got on base, drove in a few, scored a few, and played decent defensive short stop, He played hurt too. In a world where 'it is what it is', though, no doubt the Sox will bring in someone else to play short.
Jed Lowrie
Frank Costello: One of us had to die. With me, it tends to be the other guy.
One thing you can not accuse Lowrie of is being a quitter. Life has thrown all sorts of curve balls at Lowrie, and he has kept coming back for more. With another off season of preparation Lowrie could be a super utility man for the Sox to have on their bench next season. The kid just keeps coming back for more.
Kevin Youkilis
Frank Costello: The point I'm making with John Lennon is - a man could look at anything, and make something out of it. For instance, I look at you and I think "what could I use you for?"
The Red Sox certainly have made something out of Youkilis. First base, third base, anything from second to fifth in the order, you give Youk a job to do, he does it. As it turns out, maybe some people didn't realise how indispensable Youkilis is to the Red Sox chances of success. Well, we sure found out in a hurry, didn't we? His absence through injury is nothing short of glaring.
Daniel Nava
Fitzy: She didn't notice us, she must be a cop.

Delahunt: Yeah, she's probably the f-----g Police Commissioner.
You think when he is walking down Newbury Street, anyone knows who Daniel Nava is? Still? He could be the f-----g Police Commissioner for all anybody would know!
Coming soon, Dice-K, Lester, Beckett and the boys.