Here's the 411. Over the next couple of months I am going to crudely single out all but four teams and label them audaciously as having zero chance of winning the 2008 World Series. What will this arrogance get me? Nothing bar a torrent of abuse in the event I get it wrong and one of the chosen gang of Chug Monkeys turns out to be the World Series champs. Let's start insulting people!
This team is in a free-fall. According to ESPN they have a 0.2 percent chance of winning the 2008 World Series. I would actually chisel that down a little bit. They have given away their top slugger, and their next best guy may or may not make it through the season, a combination of age and injuries crippling what looked initially like it might be a good year for him personally. This team has lost seven out of their last ten and is starting to look beaten during batting practice. Not long before all the rookies come up and they start openly talking about 'next year'. They pretty much fold on the road, their pathetic record of 19-37 third worst in the entire majors. Hey at least ESPN thinks they have a 1.1 percent chance of making the 2008 playoffs. At least they have that going for them.
Ladies and Gentlemen, it is safe to say, the Atlanta Braves will not be winning the 2008 World Series.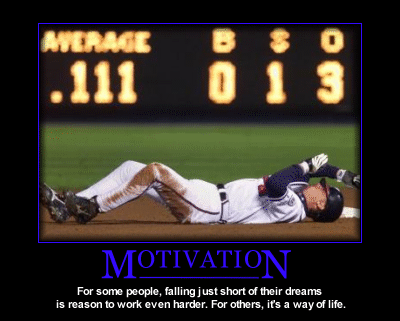 It has gotten so bad that a
local area paper's headline
after a rare win led with;
'Hampton wins, remained uninjured.'
Things have hit rock bottom when you are rejoicing that a reclamation project didn't injure himself in a start!
Maybe next year Atlanta. Not likely, but, maybe.
Previous entries to 'Teams that are not going to win the 2008 WS;

The Atlanta Braves

.